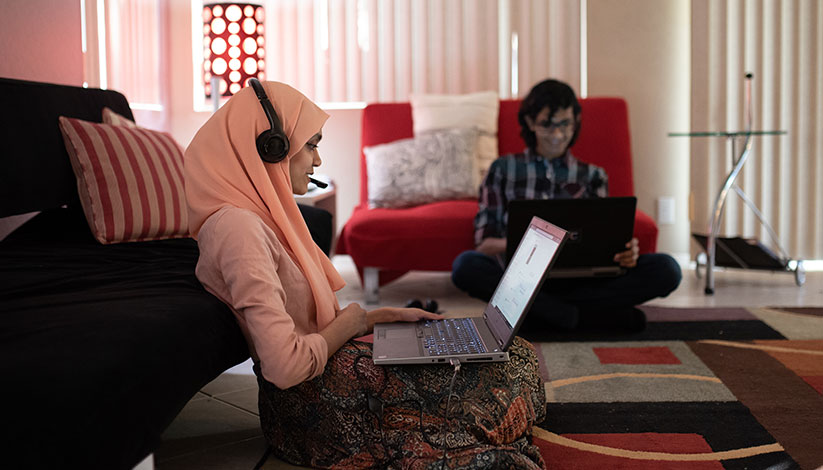 You've made time for yourself, now what?
By: Aubrey Souders, a junior studying secondary education and a First-Year Success coach
There is no denying that as college students, we have busy schedules. That's just how it works with a combination of classes, homework, studying, and part-time jobs or family obligations. However, every now and again you might find yourself with a break. Whether it's a planned break for time to yourself or you had a schedule shift that left you with an opening in your day, you may be looking for a new way to spend your free time. 
Spend time relaxing and recharging
It's important to remember that you should not feel obligated to work or be busy  all the time. College is hard, and if you notice that you have some spare down time and want to use it to catch up on sleep or watch your favorite show, do it! There's nothing wrong with taking the time to do what you enjoy, whether that's improving your mental health (through stress relief, meditation or taking a nap) or physical health (through visiting the Sun Devil Fitness Complex or planning healthy meals), health and wellness are important and will help you feel recharged for all your future studying, so make sure you are finding a balance. Check out this advice from other students on how to relieve stress in college.
Join a student group
If you're looking for something you can really throw yourself into, that will help you expand your horizons and meet new people, join a student group! These organizations give you the chance to gain experience in a variety of areas while also getting the opportunity to meet new people and make new connections. I joined Teachers of the Future, a club dedicated to people who love education and want to learn more about it as a career path. I made new friends who were on a similar career path as me, which is great because I know I can count on them for help and support. By joining a student group, you are building a connection to ASU but also with your peers. You can access SunDevilSync (where ASU clubs post upcoming events and club info) from My ASU. 
Focus on a new skill
If you want to build on a skill and you're on or near campus, check out ASU's Makerspaces (open to all ASU students). With options such as 3D printing, sewing, a podcasting and video studio, and more, your possibilities are endless! You can reserve a time to use the equipment or check out an event. And you can be anywhere from a beginner to an expert to use the equipment — just ask a library staff member for help if you need it. 
Build on your education
Whether you have found something in class that you want to explore even further, or you've determined that a certain topic area may benefit your future and post-college plans, you could consider adding a minor or certificate to your academic plan, or try looking for a relevant internship or exploring ASU's Experiential Learning Network which promotes hands on learning and first hand experience. Reach out to your advisor and schedule a time to discuss your options with them before moving forward. 
If you're more interested in finding ways to further your future career, check out ASU's Career and Professional Development Services to learn everything from information about career paths to how to apply for jobs, improve your resume, and connect with alumni and other potential mentors. Attend events either in-person or virtually and start planning your future career. Then, find out more about how the career center can help you.
Remember, how you spend your spare time is entirely up to you. You can choose to indulge in your hobbies or try something new. What's great is that no matter what you pick, ASU has an opportunity available to help you accomplish your goal. If you're not sure where to start or need some help finding an opportunity, reach out to your FYS coach, your advisor or anyone on your support team. We're here to help!
Search Sunny
Looking for a topic? Use our search tool to find answers to your questions.