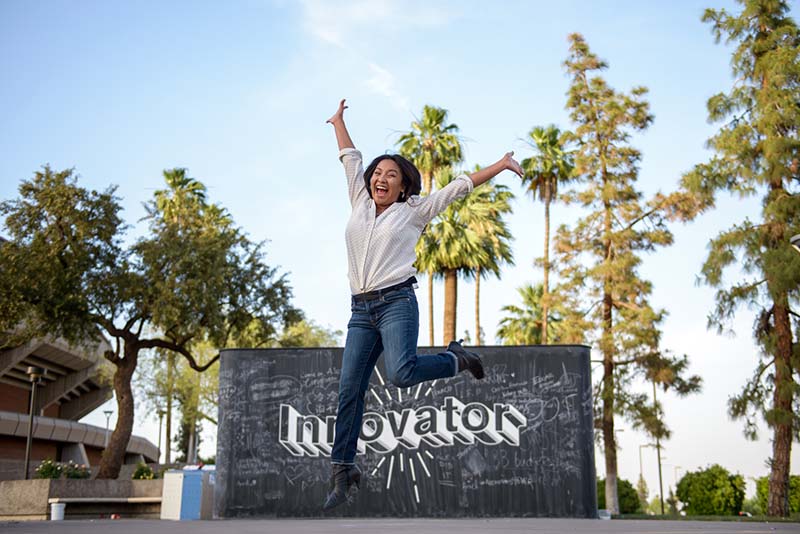 You are what makes ASU great
We want to help you feel the Sun Devil spirit in everything you do at ASU. With the homecoming celebration this weekend, it's the perfect time to connect and show pride in your college by embracing ASU experiences, traditions and everything maroon and gold. Here are four great ways to get started. Remember, you may only be on campus for four years, but you're a Sun Devil for life.
Put your #ForksUp
Get in the Sun Devil spirit and download tickets to the next ASU home football game — you can even use your phone to get in the game. Then suit up in your best maroon and gold gear and get ready to cheer. If you're headed to your first game, or just need a refresher, here's an overview of some ASU football traditions and rules. If football isn't your thing, it's okay. Check out the Sun Devils who play your favorite sport and start cheering!
Lantern Walk
Since 1917, every Friday night before the homecoming game, Sun Devils have carried lanterns to the top of "A" Mountain to light up Tempe. It's a great tradition for every student to participate in. It's time-honored, easy to participate in and super fun. Plus if you haven't climbed "A" Mountain yet, it's time. Meet other Sun Devils, enjoy a spirit filled evening and celebrate your school.
Start innovating
There are so many opportunities available to you at ASU. We want you to know about them all so you can take advantage of the ones that best fit your path. From groundbreaking projects to award-winning faculty and an amazing alumni network, there are a lot of different ways you can work with ASU to make an impact on your career and the world. Check out this post that covers a few major aspects of your university that could make a big difference to your future career.
Be there or be square
Check out upcoming events on all four campuses using the ASU Events mobile app (you'll find it under Current ASU apps) and you'll see how many amazing events there are for students to take advantage of. Try something new, like a lecture on a subject outside your major or an art exhibit by a new artist, to start expanding your horizons. You might find a new passion or meet your new best friend. Either way you'll be making the most of your Sun Devil experience.
We can't wait for you to get even more involved and immersed in ASU culture. We hope to see you at the events during ASU's Homecoming Weekend with your forks up! Tag us in your Instagram photos @asuadulting101 and let us know how you're making the most of your time at ASU.
Search Sunny
Looking for a topic? Use our search tool to find answers to your questions.