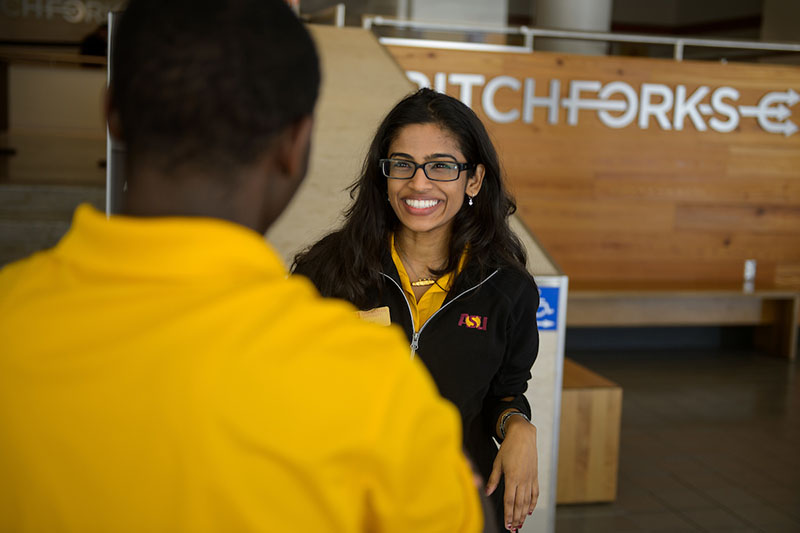 Make the most of your ASU experience
There are so many opportunities available to you at Arizona State University, and it's up to you to create your own path. Yes, it can feel overwhelming at first as you work to find your way. But once you realize that you have the ability to create a personalized college experience that fits you, the only thing that's overwhelming is your potential. Check out this list of four impactful aspects of ASU that can help guide you as you create your personal college journey.
Innovation
ASU has been ranked number one in innovation by US News & World Report for four years in a row. That means you're attending a university filled with innovative people, from the outstanding students to the excellent faculty and staff. Learn more about innovations ASU has been a part of, like the Net Zero Energy Student Pavillion on the Tempe campus and the virtual reality biology lab for online students and more. And get involved in ongoing innovation projects like the ASU Innovation Open.
Alumni
There is a huge alumni network at ASU. More than half a million students have graduated from ASU since it was founded in 1885 — that's a whole lot of networking opportunities. Meet an alum who wants to help you thrive by checking out ASU's mentorship program. Then check out this list of notable alumni who walked the same halls as you. Bragging rights included.
Excellence
ASU attracts amazing faculty, including Nobel laureates, MacArthur Genius Grant recipients and more. Even better, you can take classes taught by amazing faculty members like Liz Lerman, a professor in the Herberger Institute for Design and the Arts and a 2002 MacArthur Genius Fellowship recipient. Or learn directly from Sidney Altman, who won the Nobel Prize in chemistry and is a professor in the School of Life Sciences.
World wide opportunity
If you want to make an impact on the world, there are tons of ways you can get involved. ASU's study abroad program is partnered with schools from 55 countries and offers 250+ programs. You can even go to Antarctica, seriously. There are opportunities to make an impact beyond studying abroad. Get involved in Changemaker Central and share ideas to spark global change, or join a student group and get involved in something you care about.\
No matter how you decide to shape your college career, we're here to help. ASU offers tons of resources that were built to help you succeed. For more help deciding where to take your path, meet with your advisor or ask us a question. We love hearing from you and being a part of your success.
Search Sunny
Looking for a topic? Use our search tool to find answers to your questions.