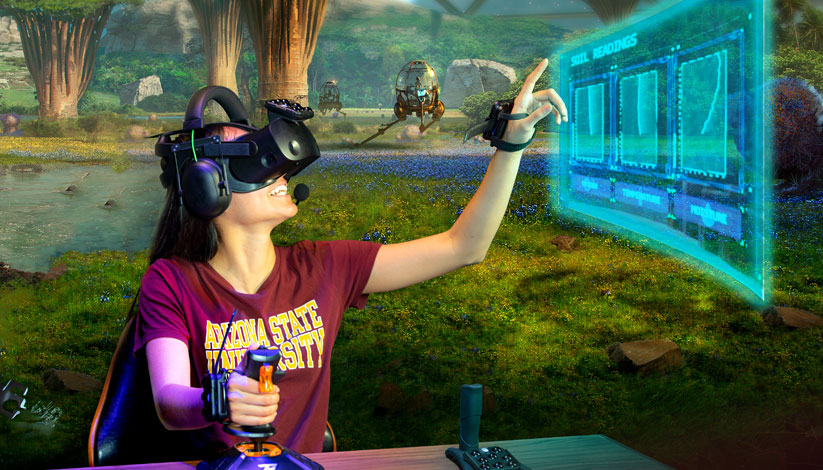 How to figure out your future
By: Zabric Kline, a senior majoring in Accounting and a First-Year Success coach
What are you going to do with your major? What are your plans after college? Do you have an internship or job lined up yet? If you are anything like I was in my first few years of college, hearing these questions makes you break out into a cold sweat. I usually had a well-rehearsed answer designed to change the subject, but the answer in the back of my mind was, "I have no idea!" 
Finding a career path (or even deciding on a major) can be tough, and for many students, it can be the source of a lot of stress. However, there are things you can do to make this process more manageable and ASU has many great resources designed to help, whether you're a first-year student with an undeclared major or you're trying to find that perfect fit upon graduation.
How do I get started? 
Visit ASU's career services: ASU's Career and Professional Development Services offers a wide variety of resources designed to help you at any point in your career search. They can walk you through assessments for insight into paths related to your strengths, interests and personality; offer hands-on resume and cover letter reviews (virtually or in person); and dispense career advice to help you prepare for your post-graduation plans, whether that's a full-time position, a graduate program or another opportunity. Check out our post on what the career center can do for you.
Talk to your professors: I have also found that a largely untapped but hugely beneficial resource for career development are your professors. Odds are that most if not all of your professors have worked or are working in the field they currently teach. Among the ASU faculty are Nobel laureates and Pulitzer Prize winners, amongst hundreds of other faculty members who have been officially recognized for their achievements. 

I found that some of the best career guidance came from asking my professors questions about their field. I made time to do this during office hours, sending emails, and asking questions in class if the time was appropriate (it can be as simple as asking them to tell you more about their research or career path, or for more information about a topic area covered in class). My professors were passionate about their work and more than happy to talk to me about what being in their field was like beyond the classroom.
I've researched and explored, now what?
One of the most valuable ways to learn more about potential career paths is to jump in and try a few of them. I know that searching for jobs and internships can be intimidating, but my best advice is to just start. I began my path by working at an ASU Starbucks in my first year of college, but I wanted to find a part-time position that would help me decide on a career path upon graduation, so I started applying for opportunities that interested me. 
After many applications (and a lot of research on different careers paths), I landed an accounting internship. From there, I had the opportunity to be a part of a few legal research teams. Those experiences helped me decide that I ultimately wanted to attend law school after graduation. 
While each of these jobs was different from the last, through varied experiences, learning from and talking to people in various fields, and exploring my interest areas, I was able to find a career path that suits my skill set and that I'm excited to continue pursuing post-graduation. And I know you can too. If you have any questions about how to go about reaching your career or future goals, reach out to a career advisor, your academic advisor (listed under Academic Support Team on My ASU), Success Coach or send us an email. We're always happy to help you find the resources you need to succeed.
Search Sunny
Looking for a topic? Use our search tool to find answers to your questions.