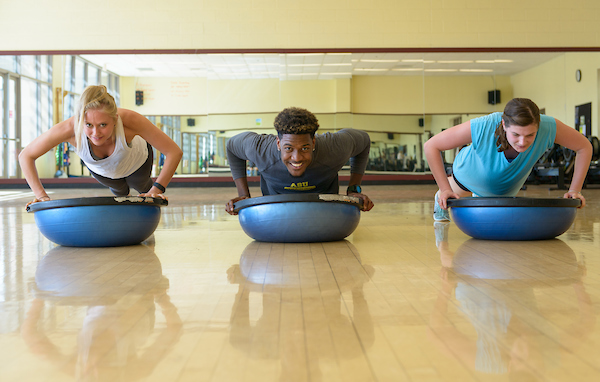 Not-so-basic ways to get fit
A new semester is here — that means it's time to get up, get out and get moving. Whether you've been slacking on your fitness routine or you never had one, now is a great time to start. At least it beats studying.
Try these motivational tactics to get yourself back in the zone:
Reward yourself. Sure, it may not sound great to bribe yourself to workout. But if it works, it works — as long as your trade-off isn't eating an entire cake. Try more of a win-win, like allowing yourself a 20 minute nap after you work out.

Set a realistic goal. The goal should be more than "go to the gym." It should be as specific as getting strong enough to run a mile in nine minutes by September. Tough but attainable. Don't try for a marathon next month when you've never run before. Set that goal out further and give yourself something you can do in a few months. Then increase the goal once you hit it.  

Have fun. Doing something you hate a few times a week is hard. Make your work something you look forward to and it'll be way easier to keep up the new routine.
Check out our ideas for how to use that new-found motivation to get back in action.
Make it a group thing.
Get your friends together or make some new ones in a group fitness class. The Sun Devil Fitness Complexes on all four campuses offer group wellness classes with your membership (included in tuition). Pick a class based on what you're interested in — they offer everything from cycling and swimming to yoga and intense HIIT classes. You can switch it up every time or become a regular.
Take a hike.
Get outside and enjoy the amazing weather in Arizona. There are great trails near all four campuses. Check out this list of the best hikes in your area. Before you hit the hills, check the trail's difficulty rating. This will help you gauge which peak is right for you based on your current fitness level. Be sure to check the forecast for the day while you're at it, high temps and heavy activity levels don't mix. Try a short hike in the morning or evening while we're hitting the peak temps. And don't skimp on sunscreen.
Go from homebody to fit-body.
If you know it's going to be too tough to tear yourself away from your Netflix marathon, try some at-home workouts you can do while the next episode is loading. Check out this video that covers 22 at-home moves to make your "Friends" binge-watching better for you (could you be any healthier?).
Risk never wanting to watch The Office again by following one of these workout plans catered to your favorite shows.
Let's get digital.
If you're more of a DIY exerciser, try one of these apps that help guide you through moves and workout plans at your own pace.
Search Sunny
Looking for a topic? Use our search tool to find answers to your questions.