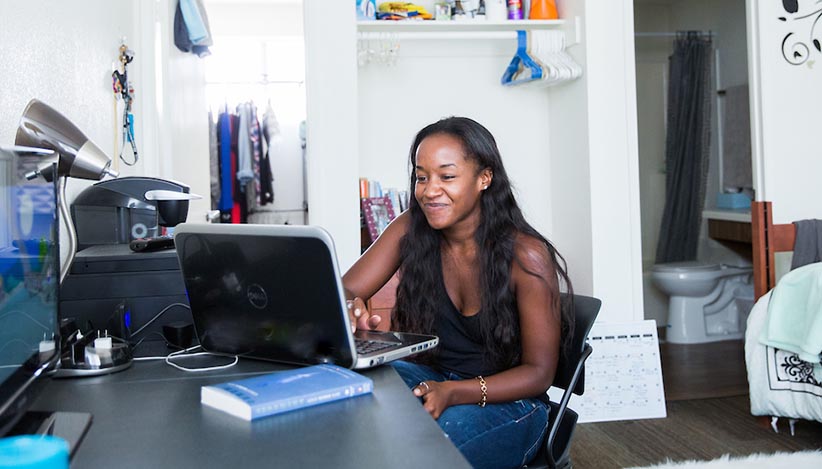 How do I find a remote internship?
By: Zabric Kline, a senior majoring in accounting, an Adulting Ambassador and a First-Year Success coach
A lot has changed recently, and businesses have been confronted with many challenges, like enabling their employees to work from home. That means that some internships have become remote, too. 
Looking for an internship can be exciting and stressful at the same time. There are a few different things to consider (and keep in mind during your internship) if you're looking for a remote position. As someone who held a remote internship position with the Abigail Adams Institute last summer, I'm sharing the lessons I learned with you. For more tips on finding, landing and working in your internship, check out Adulting 101's Internship 101 guide.  
In my experience ...
I found remote internships have their pros and cons. Working remotely was more convenient since I didn't have to drive to work, find the right professional clothes or spend time preparing lunches. I also had more time to myself at the end of every day. But there were some challenges too. 
The technology I used didn't always work, which made some days more challenging and frustrating, and it took more effort (and Zoom chats) to connect with my co-workers. But overall, I enjoyed my experience. Working a remote internship still provides you with the valuable experience that will make you a value-add to any business.
What makes a remote internship different?
Remote internships often share the same core responsibilities of being on location, but the most obvious difference is that you're not going into the office.
A big difference in the remote internship that I held last summer was that I worked with people in different time zones than where I lived. My team was based in Washington, D.C. — a two-hour time difference. This meant that I had to schedule my day as if I was living in Washington, D.C., meaning earlier mornings and bedtimes. 
What should you consider?
There are many things to think through during your internship search, like looking at your areas of interest to find the industry you want to intern in, considering future employment and more (you can learn more about internships at the Career Center). While these things should remain in consideration, a few additional considerations should be made when looking specifically into remote internships.
Location (still) matters
This is an important thing to consider for two reasons: The first is the difference in time zones (making sure you can keep up with the time constraints caused by working in a different time zone is essential). The second reason might be more important: internships are often seen as a way for businesses and interns to try each other out and may even result in the business giving an intern a job offer at the end of the internship (fingers crossed this happens to you!). 
If you're working remotely, you'll need to consider whether the business would expect you to work there in person after you accept a job offer. Ask yourself if you'd want or be able to move to the location of the company, and if you think you'd enjoy their in-office environment. 
Your work-from-home style
Everyone is adjusting to the working- (or studying-) from-home-life a little differently, and it is important to understand your own patterns and challenges before agreeing to a remote internship. 
Spending all day in one room can be tough. So pay attention to your limits, and if possible, align yourself with a business that shares them. You might also want to consider the following:
Do I have a place where I can effectively work from home?

Am I able to stay on task without direct supervision?

What are some of the challenges I have faced with remote learning and how might they affect me in my internship?
Tech requirements
Working remotely might require you to run specific company software, and you can expect to spend a decent amount of time in Zoom calls — I recommend testing your camera and background before you start taking professional calls on Zoom (there are a lot of great virtual backgrounds you can use). Discuss technology requirements and what's provided by the internship before accepting a position. You'll want to make sure that you have the appropriate resources so that you can be an effective intern.
Search Sunny
Looking for a topic? Use our search tool to find answers to your questions.