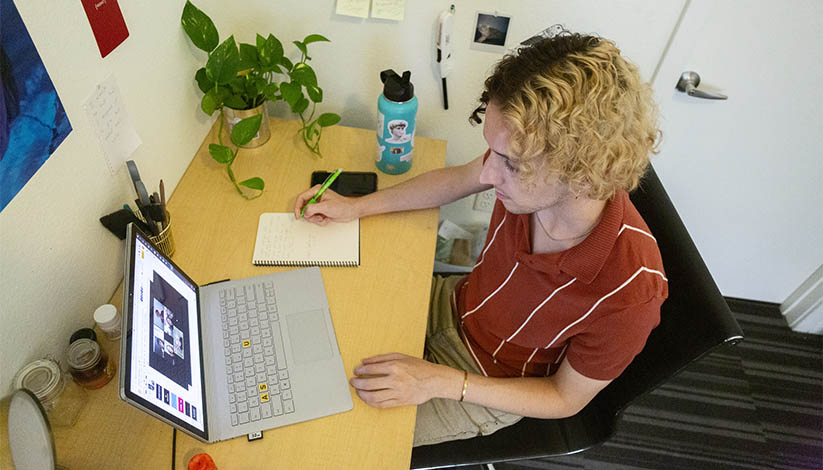 Best at-home side hustles
If you're spending more time than usual at home, you might as well monetize it. Try a side hustle you can rock from the comfort of your home. And to make this even more of a no-brainer, to start these side hustles, all you'll need is your laptop and a WiFi connection — perfect for raking in the dough in between study sessions and ASU Sync days. 
1. Proofread.
If you love to read and have an eye for detail, proofreading could be the gig for you. As a bonus, this is one of those side gigs where all you need is a laptop and internet connection. There can be a few barriers if you don't have experience, but once you get started (try offering your services to family and friends), it can be really lucrative. Learn more about becoming a proofreader on the side here. Then watch this video all about getting started as a proofreader. 
2. Manage social media accounts.
Tons of small businesses hire out their social media team. Whether they need someone to post and manage their pages or they're looking for someone to create content, there are great opportunities for side work. Check out this complete guide to starting a social media side hustle that covers a ton of ways to get started and tips to be successful. 
3. Become a critic.
While you can try submitting your opinions on movies, music or food to your local digital newspaper, it's much easier to start by critiquing websites. Try sites such as TryMyUI, UserTesting or IntelliZoom to help website creators update and modify their websites to best work for their audiences. 
4. Help students excel.
Become a virtual tutor to students around the world or in your own neighborhood. Try focusing on an area you have experience in. Aced your ACT or SAT? Become a test prep tutor. If you were a superstar in a certain subject, have that be your focus. Follow this guide to help you find clients, or try a large tutoring company like VIPKids if you'd rather someone else manage the logistics. 
5. Use your skills.
Having a skill can really benefit you when it comes to starting a side hustle. If you're a photographer, you probably already know that you can earn extra cash by taking headshots and other photos. But if you're looking for another option, try selling your work to stock photo sites. They're always looking for new content and can help you earn some cash on the side.  
Graphic designers have a lot of side hustle opportunities too. Try creating logos, or contracting out your services to individuals and businesses. You could also try creating your own designs and selling them on T-shirts, as stickers and more on sites like RedBubble. Watch this video before launching your design business for tips and tricks on how to be successful:
Have you been successful with an at-home side hustle? Let us know — we'd love to hear about it. For more ideas, check out our post on nine side hustles that are great for students. Then take this side hustle quiz from iGrad to find out which is the best fit for you.
Search Sunny
Looking for a topic? Use our search tool to find answers to your questions.