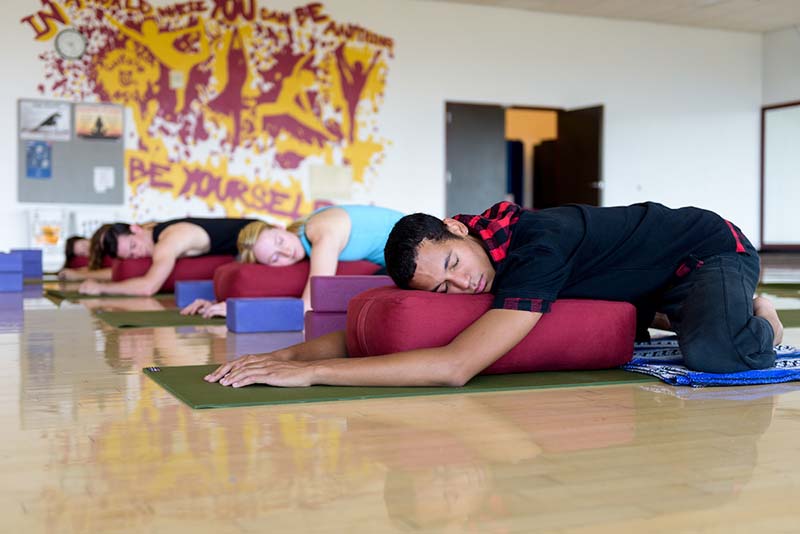 Where to take a wellness break
You have a lot going on, Sun Devil. Between studying, having a social life and participating in student groups, it's safe to say you probably need to take a breather. Lucky for you, we've found the best places on each campus to take a wellness break.
A wellness break is a moment you take for yourself to recharge. Where you take your break can be different for everyone. Make sure it's a space where you can take a step back from your work and reset your busy brain. Here are our suggestions for great places to relax.
ASU 365 (Tempe campus)
Unwind at one of the coolest new hangout spots, Sun Devil Stadium. The stadium has been reworked to serve students and the community even on days with no football. The newly named ASU 365 Community Union will be hosting events from yoga to movie screenings. Check out a screening of Toy Story 4 on Oct. 5. Students can get free tickets through the ASU Mobile App. Don't forget to bring a blanket*.
*The ASU clear bag policy is in effect for events in Sun Devil Stadium. However, blankets are allowed. 
Crow's Nest (Polytechnic campus)
Find the Crow's Nest on the top floor of the San Tan building on the Polytechnic campus. Grab a comfy chair and relax while checking out the amazing views of campus. The space is typically pretty calm, so bring your study materials and work on your homework with a view.
Zen Den (Tempe campus)
The College of Liberal Arts and Sciences' new home on the Tempe campus, Armstrong Hall, has a great new space that's perfect for chilling out. From 11 a.m. to 1 p.m. on Wednesdays, room 142 transforms into a "zen den." Enjoy the guided meditation and essential oils. Yoga mats are available, so stretch out and say, "ohm."
Fletcher Library (West campus)
For a peaceful moment at a calming location, check out Fletcher library on the West campus. It's everything you need for a break from a busy day on campus. Relax while gazing at the reflecting pool on the front lawn, or take a break in a private study room before you dive back in to your note cards.
Student Center at the Post Office (Downtown Phoenix campus)
The Student Center at the Post Office on the Downtown Phoenix campus is a great place for a ton of different ways to take a wellness break. There's a lounge with comfortable chairs for a calm relaxation station, and a recreation room with foosball, air hockey and more for when you want to cool down with friends.
Let us know your favorite place to take a wellness break, or tag us on Instagram the next time you're in your relaxation spot. We'll share it to help other Sun Devils find their zen. Namaste.
Search Sunny
Looking for a topic? Use our search tool to find answers to your questions.