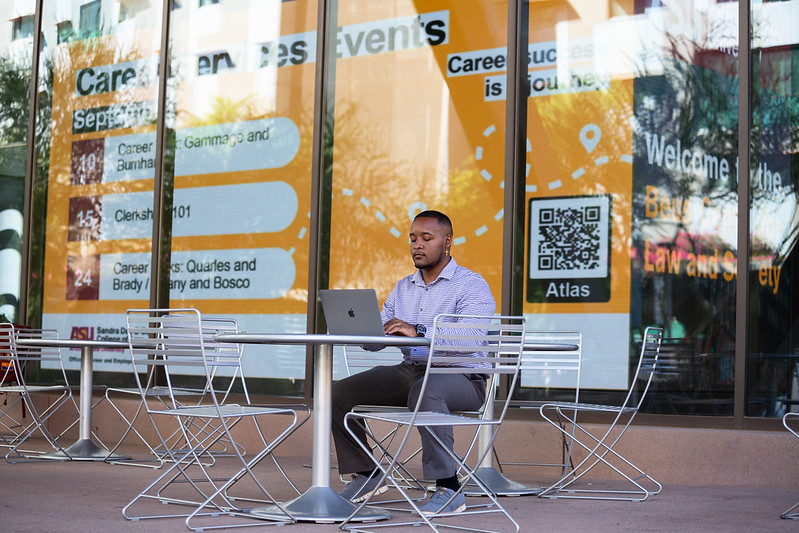 Apply for scholarships now, thank yourself later
The ASU Scholarship Portal for the 2023-2024 academic year is now open. We spoke to Nydia Cady,  on the Financial Aid and Scholarship Services team, about advice and tips she has for you as you start the process. Check out her advice before you apply — you'll thank yourself later.
What advice do you have for students applying for scholarships?
Be mindful of deadlines! Most scholarship deadlines occur between Jan. 1 and March 1, 2023. There are exceptions to this, but the vast majority of scholarships will follow this standard timeline, as donors generally like to have scholars selected in advance of the coming school year. Students who begin their scholarship search after these deadlines will find fewer opportunities.
Will taking classes remotely affect my scholarship eligibility? 
 Many ASU students are now taking classes through a variety of learning modalities, including ASU Sync and iCourses. Unless you've switched to ASU Online, you may still search for scholarship opportunities specific to your ground campus location (Tempe, West, Polytechnic or Downtown Phoenix).
In addition to using the Scholarship Portal,  I would encourage students to take advantage of our many existing financial aid resources. Filing a FAFSA is the first step to be considered for federal and institutional aid, as well as need-based scholarships. 
What should students have prepared before they start applying for scholarships?
It's a good idea to have a resume and list of volunteer, internship and student organization activities you've participated in throughout the past school year. Some students have had success in drafting a personal statement including their background, goals and contributions they hope to make in society after college, which they can then tailor to specific scholarship opportunities or essay prompts. 
It's a good idea to get a second pair of eyes on scholarship essays before you submit yours. Check out Hey Sunny's post on ASU's Writing Center for more information on how they can help you submit your best application. 
What about letters of recommendation?
Some scholarships require recommendations, so it's always a good idea to have one or two people in mind who may be able to provide one. These should be individuals you know in a professional capacity, such as professors, advisors, employers or community organization leaders.  
It is also important to give recommenders enough notice prior to a scholarship deadline so that they have time to draft a quality letter. We usually recommend two to three weeks. When students ask me for a letter of recommendation, I always request a current resume and personal statement as well as details about the scholarship, so be ready to provide those items.
What kind of scholarships are in the portal?
You'll find general scholarships from several of our larger schools and colleges (including the W. P. Carey School of Business, Ira A. Fulton Schools of Engineering, Edson College of Nursing and Health Innovation, the Mary Lou Fulton Teachers College, and more), and opportunities for both residents and nonresidents, such as the ASU Family Scholarship and The College First Generation Scholarships. We also have a State Farm Scholarship that is offered to Arizona residents in a variety of degree programs. 
Good luck on your applications, Sun Devils. If you have more questions, ASU offers lots of resources to support you in your scholarship search and throughout the application process. And you can always ask us your questions, too. Now it's time to get started! Good luck!
Search Sunny
Looking for a topic? Use our search tool to find answers to your questions.